The Sabbath:
A Family Event
By the Rev. Lee Woofenden
Bridgewater, Massachusetts, October 17, 1999

Readings
Psalm 78:1-7 Teach our children
Give ear, O my people, to my teaching;
incline your ears to the words of my mouth.
I will open my mouth in a parable;
I will utter dark sayings from of old,
things that we have heard and known,
that our ancestors have told us.
We will not hide them from their children;
we will tell to the coming generation
the glorious deeds of the Lord, and his might,
and the wonders that he has done.
He established a decree in Jacob,
and appointed a law in Israel,
which he commanded our ancestors
to teach to their children;
that the next generation might know them,
the children yet unborn,
and rise up and tell them to their children,
so that they should set their hope in God,
and not forget the works of God,
but keep his commandments.

Mark 10:13-16 Jesus blesses the children
People brought little children to Jesus to have him touch them. But the disciples scolded them. When Jesus saw this, he was angry, and said to his disciples, "Let the little children come to me, and do not stop them, for the kingdom of God belongs to people who are like them. I tell you the truth, anyone who will not receive the kingdom of God like a little child will never enter it." And he took the children in his arms, put his hands on them, and blessed them.

Arcana Coelestia #5598 Heavenly families
In heaven, the only kind of birth they think about is the kind called "rebirth," which happens through the truth of faith and the good of kindness. By this kind of birth the children of humans become children of the Lord. . . . There is endless variety in heaven, but the differences are arranged by the Lord so that they are like families in which there are brothers, sisters, sons-in-law, daughters-in-law, grandsons, granddaughters, and so on. Still, they are all organized so that they make one united whole. They are like the variations within the human body, in which no part is exactly the same as any other, . . . yet all the different parts are organized into a form in which they act as a single whole.

Sermon
Give ear, O my people, to my teaching; incline your ears to the words of my mouth. I will open my mouth in a parable; I will utter dark sayings from of old, things that we have heard and known, that our ancestors have told us. We will not hide them from their children; we will tell to the coming generation the glorious deeds of the Lord, and his might, and the wonders that he has done. (Psalm 78:1-4)
Today we are joining other churches in Bridgewater and around the country in observing a Children's Sabbath sponsored by the Children's Defense Fund. This event focuses on the needs of the children in our society, and is meant to lead to action on behalf of children.
The Bridgewater Council of Churches has been focusing lately on the issue of children, youth, and the Sabbath. The problem is this: whereas Sundays were once sacrosanct in our society, today, with an increasingly unchurched population, Sundays have become fair game (so to speak) for the scheduling of youth sports and other activities for our children. Even Sunday mornings are no longer immune.
This is a serious problem for families who wish to take part in Sunday worship, and have their children attend Sunday School. Families are being forced to choose between practicing their faith and allowing their children to take part in their favorite sports activities. It is a difficult choice, since for many children and teens, playing sports is a highlight of their lives. For most of them, it is too much to expect that they will drop out of the team in order to take part in Sunday School. So the churches get the short end of the stick.
Really, though, it is not the churches, but the children themselves and their families who get the short end of the stick. Our society, in allowing this direct competition between recreation and faith, is making it ever more likely that children will grow up without a strong and living faith in God, and that parents will not be able to fully share their faith with their children. Our ability to share our faith with the next generation--which God commands us to do, and which was once taken for granted--is now in serious jeopardy.
In short, what is at stake here is not merely whether our churches can keep a Sunday School going. What is at stake is the moral and spiritual foundations of our children's lives. Although our government-run school system does strive to pass on our culture's ethical values to the children, they are forbidden to teach any spiritual values due to the constitutional separation of church and state. As a result, religiously-based moral values tend not to reflected in the curriculum, either. These things are left to the families, and especially to the churches, to teach to our children and youth.
Yet now, even the churches' ability to give our children a moral and spiritual foundation is being compromised by competition from sports and other youth activities. Of course, another problem is our tendency these days to overschedule both ourselves and our children. For some families, Sunday morning is the only free time they have, and getting out to yet another activity--namely, church--loses its appeal.
This is a very sad situation. If churches cannot reach our children with a moral and spiritual message, and families do not have time to teach these values to their children, what is left is a spiritual vacuum that will be filled by the more materialistic values presented on TV, in the movies, and in our culture generally. When we add up one child here and one child there with no religious education, we come up with hundreds, then thousands, then millions of people reaching adulthood in our society with a rather vague moral compass, and with no solid faith in God as a guiding force in their lives. It is no wonder that so many people, both teens and adults, are having their lives torn down or trivialized by addiction to drugs and alcohol, by the lure of money and wealth, by status-seeking and social climbing.
Now, I could keep on complaining about the erosion of spiritual values in our society. But the Children's Sabbath is meant to lead to action on behalf of children. And the Bridgewater Council of Churches is sponsoring a specific action to reclaim the Sabbath for our youth and families. On the back table there is a petition in the form of an open letter which the Council of Churches has drafted as a first step toward resolving the competition between faith and recreation. We are gathering signatures on the letter, which we will present to the various people who schedule youth activities as an opening statement in what we hope will be a cooperative dialogue aimed at making sure that our children and youth can participate fully both in recreation and in church.
To encourage you to sign the letter--and so that each of you won't have to take the time to read it separately, I will read it to you now:
Reclaiming the Sabbath: An Open Letter
Sponsored by the Bridgewater Council of Churches
We, the undersigned, believe that a weekly Sabbath of rest from regular activities is essential for all children, young people, and their families. In a world that is increasingly busy both for adults and for children, our youth need time to rest, relax, and simply be themselves; and our families need time to spend together. For religious parents, passing on to their children the teachings and values of their faith is a key part of practicing their beliefs. It is also one of the foundations of a stable, happy, and healthy society.
We therefore respectfully yet urgently request that the leaders of all programs for children and young people--both in and out of the schools--refrain from scheduling activities on Sundays before 1:00 PM. Leaving this time period free will ensure that most religious families will be able to take part in worship and Sabbath school programs, and that other families will have time to reconnect with one another.
If there are circumstances that make it difficult to avoid scheduling on Sunday mornings, such as insufficient playing fields or other facilities, we urge that instead of taking away the ability of families to practice their faith, the obstacles themselves be addressed. For example, the construction of new playing fields and new facilities may be necessary to meet the recreational needs of the growing population in our community.
We urge all who are responsible for scheduling activities for children and youth to respect the right of families to engage in worship and to spend time together.
This open letter is meant to be a respectful yet challenging opening statement from the Bridgewater religious community to the people who run the various programs for children in this town. (And yes, people who live outside of Bridgewater can sign. If you are here in church, you are part of the Bridgewater religious community!) We hope that it will be the beginning of a process that will eventually make it so that children, youth, and their families do not have to choose between religion and recreation.
Of course, this open letter also implies a challenge to the Bridgewater religious community. We must be willing to listen as well as talk, and to find out what the issues are on the other side of the fence. If there are real problems that are causing events to be scheduled on Sunday--such as insufficient playing fields--we will be most effective in our initiative if we are willing to work with secular youth leaders to correct those problems.
However, I believe that we have an even deeper challenge ahead of us. There are an exceptional few young people and families who will choose church over sports if they are forced to make that choice. But in general, these days sports and recreation win hands down over church. What is more, some secular youth leaders apparently do not have a sense that young people's participation in family religious activities is important enough that they cannot interfere with it. In short, we live in a culture that does not put a high value on giving its children and youth a spiritual foundation to their lives.
Once again, we could complain about the lack of spiritual values in our society. But doing so won't accomplish much. It is far more constructive to seek out ways that we can raise the value of the spiritual foundation that our church is offering, and at the same time make it more attractive. We can seek positive ways to change the community attitude toward children's participation in religious activities.
We may think that we could never compete with all the other things that are going on in the lives of children and young people these days. Yet we and other churches do attract families that attend the Sunday School programs we offer. If these parents did not believe in the value of a religious upbringing for their children, and if their children did not enjoy the Sunday School and other programs we provide for them, they would not come back week after week. When it comes to teens, many of them will give up a lot of other activities--even paying work!--to attend one of our Youth Retreats.
Why? Because these programs for children and youth reach out to them in ways they can't get anywhere else. They provide religious instruction and give our children and young people spiritual values in a way that is engaging and fun, and also emotionally satisfying.
As a congregation and a as religious community, we do have successes to build on when it comes to passing on our spiritual values to our children and youth. Our challenge is to bring the spirit and joy of the Lord ever more fully into everything we do here. Our challenge is to make this church a place where the Sabbath is truly a Spirit-filled family event--one that people young and old would not miss for all the world! Amen.


Music: Eternity
© 1999 Bruce De Boer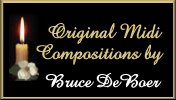 Floating Leaf Script
Courtesy of