By the Rev. Lee Woofenden
Bridgewater, Massachusetts, February 11, 2001
Valentine's Day Sunday



Psalm 19 The heavens declare the glory of God
The heavens are telling the glory of God; and the firmament proclaims his handiwork. Day to day pours forth speech, and night to night declares knowledge. There is no speech nor words; their voice is not heard; yet their voices goes out through all the earth, and their words to the end of the world.
In the heavens he has set a tent for the sun, which comes out like a bridegroom from his wedding canopy, and like a strong man runs its course with joy. Its rising is from the end of the heavens, and its circuit to the end of them; and nothing is hid from its heat.
The law of the Lord is perfect, reviving the soul; the decrees of the Lord are sure, making wise the simple; the precepts of the Lord are right, rejoicing the heart; the commandment of the Lord is clear, enlightening the eyes; the fear of the Lord is pure, enduring forever; the ordinances of the Lord are true and righteous altogether. More to be desired are they than gold, even much fine gold; sweeter also than honey, and drippings of the honeycomb. Moreover by them is your servant warned; in keeping them there is great reward.
But who can detect their errors? Clear me from hidden faults. Keep back your servant also from the insolent; do not let them have dominion over me. Then I shall be blameless, and innocent of great transgression. Let the words of my mouth and the meditation of my heart be acceptable to you, O Lord, my rock and my redeemer.

Mark 12:28-34 The two greatest commandments
One of the teachers of the law came and . . . asked him, "Of all the commandments, which is the most important?"
Jesus replied, "The most important one is this: 'Hear, O Israel, the Lord our God is one Lord. Love the Lord your God with all your heart and with all your soul and with all your mind and with all your strength.' The second is this: 'Love your neighbor as yourself.' There is no commandment greater than these."
"Well said, teacher," the man replied. "You are right in saying that God is one and there is no other but him. To love him with all your heart, with all your understanding and with all your strength, and to love your neighbor as yourself, is more important than all burnt offerings and sacrifices."
When Jesus saw that he had answered wisely, he said to him, "You are not far from the kingdom of God."

Divine Love and Wisdom #1 Love is our life
We know that love exists; but we do not know what love is. We realize that love exists from everyday conversation. For example we say, "He loves me," "The subjects love their ruler," "The husband and wife love each other," "The mother and her children love each other," and "He loves his country, his fellow-citizen, and his neighbor." We say the same sort of thing about inanimate objects. For example, "He loves this or that thing." But in spite of the fact that we are always talking about love, hardly anyone knows what love is.
Since we cannot form any concept of love when we think about it, we will say that it isn't really anything, or that it is just something that flows into us from the things we see, hear, touch, and talk about, and affects us in that way.
We are completely unaware that love is our very life. And love is not only the overall life of our body and all our thoughts; it is the life of every single part of us.


The law of the Lord is perfect, reviving the soul. (Psalm 19:7)
Valentine's day is coming right up, and when it comes to love, I know exactly where to turn for advice: Tom and Ray Magliozzi, the "Car Talk" guys! Those of you who never listen to Car Talk on the radio are probably scratching your heads right about now. What do cars have to do with love? Tom and Ray answer that question . . . well, sort of . . . in the online ad pitch for their CD "Men Are from GM, Women Are from Ford":
Why is it that so many of our calls start out talking about, say, differentials or power steering, but wind up discussing men, women, devious ploys of deception, and power trips? Simple. To quote our producer, Dougie Berman: "A car is just a big inanimate object through which we reveal ourselves and our true personalities. Tangled up with cars are the issues of money, power, independence, self-image, confidence, generosity, and honesty, just to name a few." We couldn't have said it better, if at all.
Anyway, interspersed with their advice on differentials and power steering, Tom and Ray do talk a lot about men, women, and love on their show. And though I don't catch the show as often as I used to, I did hear part of last week's show. In fact, I tuned in just as the Car Guys were introducing their latest find in the love department: a book newly revised and published in January called The Surrendered Wife: A Woman's Spiritual Guide to True Intimacy with a Man, by Laura Doyle. This book presents a somewhat milder, 90s version of the Apostle Paul's famous or infamous statement in Ephesians 5:22-24:
Wives, submit to your husbands as to the Lord. For the husband is the head of the wife as Christ is the head of the church--his body--of which he is the Savior. Now as the church submits to Christ, so also wives should submit to their husbands in everything.
Tom and Ray had found out about this book through a review in Time magazine, which Tom's wife had done her best to hide from him--all to no avail. As I listened, I remembered that there was a copy of Time magazine lying on Patty's bedside table. I'll bet she never thought I would look there! The next time I went into the bedroom and noticed it, I took a look. Sure enough, there was the review of The Surrendered Wife! (I'm sure Patty was actually reading the cover article about John Ashcroft.)
To be sure, both the Car Guys and the reviewer for Time magazine had a healthy dose of skepticism about the premise of this book. Still, I knew I'd be preaching a Valentine's Day sermon soon. So despite the risk I took of making such an admission with Patty in the room, I looked up the book's web site and read the first two chapters--which are posted online as a way to convince you that you really want to buy this book. Personally, I wouldn't dare! Besides, the book tells its intended audience of women that their husbands aren't supposed to know they're reading it. (Don't worry, Patty, I won't search your drawers!)
All joking aside, after reading the first two chapters, I came away with the same general thoughts I had when I first heard the title.
Now, I do recognize that Paul's formulation of women submitting to their husbands, their husbands loving them in return with a Christ-like love (which is how the passage continues), and everyone submitting to God was a distinct step forward in a day when women were considered the virtual property of their husbands, to be treated however the men pleased--whether well or badly. And for many people who still cannot quite conceive of women as being fully equal to men, Laura Doyle's book gives about the most positive construction to the remaining sense of inequality.
However, my main reaction to the book is related to Doyle's central premise that a woman "surrendering" to her husband involves loving him and respecting him. Sounds great to me! But shouldn't husbands also do this for their wives, parents for their children, children for their parents, friends for their friends, and so on? In short, aren't we all supposed to surrender to one another in love?
Perhaps the passage from Paul was on my mind after all. Immediately before those well-known verses about wives submitting to their husbands, Paul says, "Submit to one another out of reverence for Christ" (Ephesians 5:21).
I did not agree with everything Doyle wrote in the two chapters I read. It struck me as being still tainted with the idea that women are by nature subordinate to men. However, I did find real wisdom in her concept of calling a cease-fire in the battle of the sexes, committing ourselves to laying aside any desire to dominate or control our partner, substituting a conscious effort to love, respect, and listen to our partner. And I believe this applies just as much to a man's approach to his wife as it does to a wife's approach to her husband. If each partner is willing to surrender to the other, and both to God, then there is the basis of a true, deep, happy, and lasting marriage.
This applies to all human relationships because it is based on what we could call "The Law of Love." When Jesus was asked what was the most important of all the commandments, instead of responding with a parable, as he so often did, he gave a very direct answer:
The most important one is this: "Hear, O Israel, the Lord our God is one Lord. Love the Lord your God with all your heart and with all your soul and with all your mind and with all your strength." The second is this: "Love your neighbor as yourself." There is no commandment greater than these (Mark 12:29-31).
In another Gospel, he adds, "All the Law and the Prophets hang on these two commandments" (Matthew 22:40). All the Law and the Prophets! For his Jewish listeners, this meant the entire Word of God. The entire Word of God depends on love! To put this in the broadest terms, everything God teaches us throughout all the spiritual literature of all the religions and eras of humankind depends upon loving the Lord our God above all else, and loving other people as much as we love ourselves. This is the Law of Love. Paul is explaining the same law when he writes in Romans 13:8-10:
Let no debt remain outstanding, except the continuing debt to love one another; for those who love others have fulfilled the law. The commandments, "Do not commit adultery," "Do not murder," "Do not steal," "Do not covet," and whatever other commandment there may be, are summed up in this one rule: "Love your neighbor as yourself." Love does no harm to its neighbor. Therefore love is the fulfillment of the law.
If we were to follow this law in all of our relationships, then, as Jesus said to the teacher of the Law who had asked the question, and had then given a wise response to Jesus' answer, we would be "not far from the kingdom of God." Today we are celebrating Valentine's Day, so let's look at some specific ways we can follow this Law of Love in our relationships. And since I took the time to read two chapters of Doyle's book, I'd like to draw some thoughts from it--but with the idea that they apply equally to the way a husband acts toward his wife.
First, as a crucial centerpiece to her whole argument, Doyle points out that there is only one person we can change: ourselves. This idea is expressed everywhere, and may even seem trite. Yet as easy as it is to say, it is very difficult to live by. Our natural tendency as human beings is to place the source of all our problems outside of ourselves. Why? Because it's much easier that way! If all of our problems are caused by factors and people other than ourselves, then we don't have to change anything to make things better; they do.
Yet ironically enough, when we move through life with the idea that the problem is outside of ourselves, we set ourselves up not only for failure in our relationships, but also for complete exhaustion and defeat. If we believe that some they out there must change, then until we do give up in defeat, we will be stuck on a never-ending treadmill of trying to change everything except what we actually do have the power to change: ourselves.
When it comes to marriage, the idea that the problem is outside of ourselves most commonly comes down to the idea that the problem lies with our partner. If things are ever going to get better, we tell ourselves, then our partner must change. And it is our job to make him or her change. So as Doyle points out, once the honeymoon is over and we start seeing our partner's imperfections, we take it as our task to correct them--of course, merely as a way of trying to help our partner improve. "From my point of view," Doyle writes, "if he would just be more ambitious at work, more romantic at home, and clean up after himself, everything would be fine." Our efforts to make those corrections in our partner amount to an effort to dominate and control our partner--which will destroy our marriage.
Doyle's solution is both simple and difficult. Simply stop criticizing your partner. Stop telling him or her what to do; stop nagging; stop giving advice; stop all efforts to control what your partner does. Give your partner the respect of believing that he or she can discover and correct his or her own problems, and focus instead on correcting the problems of the person that you can change: yourself. It's simple. And yet it is so difficult, because it means we have to face all the things in ourselves that need changing.
Of course, there are some cases in which the problems in our partner are so severe that a relationship with that person simply isn't going to work. As Doyle points out, if your partner is physically or sexually abusive to you or your children; has an active addiction to alcohol, drugs, gambling, or any other destructive substance or behavior; or is chronically unfaithful to you, it is time to begin making plans to get out of the relationship.
However, if none of these things are true of our partner, then our task is to focus on the things that need changing in ourselves rather than the things that need changing in our partner. As hard as it is to do this--especially when we first start trying--the potential rewards are great, and we can begin to reap those rewards surprisingly quickly.
Both Doyle herself and various people who give testimonials to her book state how hard it was to begin showing love and respect for their husbands instead of criticizing and nagging them. Yet they also wax enthusiastic about how quick the change was in coming when they broke themselves of those habits and began to speak positively to their husbands, listen to their ideas, and generally let them run their own lives. Where their husbands had become silent, withdrawn, and unromantic, they quickly began to open up again, wanting to spend more time with their wives . . . and even spontaneously doing things around the house that before, the wife figured she would have to nag for months in order to get them done.
What's going on here? It's simple. When we begin to live by the Law of Love, the love we show comes back to us. Don't we all want to be treated with love and respect by our partners, our parents, our children, our friends, our co-workers? Don't we respond well when someone does give us respect, believing that we are good and competent people who will do well if we are allowed to express the best in ourselves? Of course we do! So will our partners when we give them the same love and respect that we desire. As Jesus said, "Give, and it will be given to you. A good measure, pressed down, shaken together and running over, will be poured into your lap. For with the measure you use, it will be measured to you" (Luke 6:38).
This is the Law of Love. When we love the Lord our God above all else, and love our neighbor as we love ourselves (and yes, our neighbor does include that person we're married to or otherwise in close relationship with), amazing things will start happening. Where once we may have fallen in love, now we will be in love, because we are living from love.
"The law of the Lord is perfect, reviving the soul." Amen.




Music: Heart to Heart
© 1999 Bruce DeBoer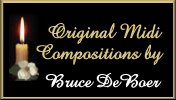 Floating Script Courtesy of: