Resurrecting the Church


By the Rev. Lee Woofenden

Bridgewater, Massachusetts
March 30, 2003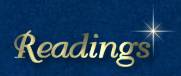 Haggai 1:2-8 Rebuild the temple of the Lord!
This is what the Lord Almighty says: "These people say, 'The time has not yet come for the Lord's house to be built.'"
Then the word of the Lord came through the prophet Haggai: "Is it a time for you yourselves to be living in your paneled houses, while this house remains a ruin?"
Now this is what the Lord Almighty says: "Give careful thought to your ways. You have planted much, but have harvested little. You eat, but never have enough. You drink, but never have your fill. You put on clothes, but are not warm. You earn wages, only to put them in a purse with holes in it."
This is what the Lord Almighty says: "Give careful thought to your ways. Go up into the mountains and bring down timber and build the house, so that I may take pleasure in it and be honored," says the Lord.
John 11:1-15 The Death of Lazarus
Now a man named Lazarus was sick. He was from Bethany, the village of Mary and her sister Martha. This Mary, whose brother Lazarus now lay sick, was the same one who poured perfume on the Lord and wiped his feet with her hair. So the sisters sent word to Jesus, "Lord, the one you love is sick."
When he heard this, Jesus said, "This sickness will not end in death. No, it is for God's glory, so that God's Son may be glorified through it." Jesus loved Martha and her sister and Lazarus. Yet when he heard that Lazarus was sick, he stayed where he was two more days.
Then he said to his disciples, "Let us go back to Judea."
"But Rabbi," they said, "a short while ago the Jews tried to stone you, and yet you are going back there?"
Jesus answered, "Are there not twelve hours of daylight? Those who walk during the day do not stumble, because they see the light of this world. But those who walk at night stumble, because the light is not in them."
After he had said this, he went on to tell them, "Our friend Lazarus has fallen asleep; but I am going there to wake him up."
His disciples replied, "Lord, if he sleeps, he will get better." Jesus had been speaking of his death, but his disciples thought he meant natural sleep.
So then he told them plainly, "Lazarus is dead, and for your sake I am glad I was not there, so that you may believe. But let us go to him."
Arcana Coelestia #2916.4 Resurrecting the church
When the Lord raised Lazarus from the dead, it symbolized rebuilding the church among the gentiles. Since all the miracles that the Lord did were divine, they symbolized the stages that his church passes through.
When he heard this, Jesus said, "This sickness will not end in death. No, it is for God's glory" (John 11:4)
Today we hold the last session in our four-part series of visioning and planning workshops for our church. For our last session, on March 9, our facilitator, the Rev. Dan Hotchkiss, joined us for our morning service. In the session afterwards, I was struck by one phrase he used. He spoke of dealing with "your crisis."
I was tempted to say, "What crisis?" For those of us who have been with this church for many years (and I count myself among that number, having been a member since I was a teenager), our church does not seem to be in crisis. In fact, compared to the last decade, it seems to be doing fairly well. We have new faces in church. We have added a class to our Sunday School to accommodate the larger numbers and wider age range. What crisis?
And yet, putting myself in Dan's shoes--or the shoes of a newcomer to the church--the crisis is obvious. As Dan sat in one of the side pews, he shared the church with a lot of empty pews. There were our usual thirty or so people in church. And when the Sunday School children and teachers went out to their classes, there were perhaps fifteen or sixteen worshipers scattered around the pews in this church that can seat two hundred fifty people.
To those of us who have become used to it, this looks like a fairly normal Sunday. But to someone coming in from the outside, it might very well look like a . . . crisis!
One of the most striking moments for me during our visioning and planning series took place in an earlier session. Dan asked us to arrange ourselves around the circle by how long we had been part of this church. That left me with a bit of a conundrum. Should I seat myself according to when I had first come to this church as a youngster in 1971, or according to when I returned as pastor in 1996? But I was startled to discover that it didn't matter. Whichever date I chose, I would be sitting in the same position, since everyone present (and this represents almost everyone active in our church) had either been in this church before 1971, or had come since 1996. The room was neatly divided: one half had been here "almost forever," and the other half had been here from one to five or six years. And Patty and I were sitting right in the middle, between the two groups.
That is the situation in our church today. After a long fallow period, when the slow, steady decline of our church continued year after year, decade after decade, we have made some progress in the last few years. And our church consists of two groups: the long-time members and the newcomers. There is almost no one in between.
And as we went around the church and expressed our hopes and aspirations for our church, it became clear that the two groups had quite different perspectives on our situation. It was apparent that the long-time members were veterans of the war, having fought the good fight for many years--and that they were tired. The energy level on that side of the room was reserved and cautious, unsure of what future our little church has. By contrast, the other side of the room was hopeful and optimistic, full of a sense that our church can have a good and growing future, and wanting to express thoughts of how that might happen. Though some of you who were there might describe the contrast between the two sides of the room differently, it was apparent to everyone that the two groups had very different perspectives on our church.
Now, for whatever reason, in our last session, on March 9, very few of our core, long-time members were present. The gathered group consisted mostly of relative newcomers. We had a good and constructive session, with many positive ideas and suggestions for ways we could reach out and grow, and more effectively welcome newcomers into our church. However, there was also a pervasive sense among the people present that we could have a good discussion, but when it came right down to it, it wasn't up to this group what the church would do--that the critical decisions were in the hands of the other group. And I could sense frustration over that.
My own belief is that both groups are essential to the future of our church. We need the long-time members for their experience and knowledge of this church's history and traditions, as well as for their solid track record of doing the steady, ongoing work of keeping this church open and running week in and week out, year after year, decade after decade. We also need the newcomers for the sense of new energy and vision for our church, and for opening up possibilities of new activities and new programs, new outreach into our community. For the long-time members, this church as it has operated for many years provides satisfaction in itself. For the newcomers, it is the potential of our church for moving forward and growing and reaching out to new people that is especially exciting.
All of these things were on my mind as I turned my thoughts to what I would say to you during our service this morning. And when I turned to our scheduled Bible story for today, it was the story of the Lord raising Lazarus from the dead. Wow! At that point I knew that divine providence was working. Because I'm not sure I would have dared to make that connection on my own. But the message to me was clear: we, as a congregation, are engaged in the task of resurrecting our church.
To his family and friends, Lazarus looked quite solidly dead and buried. In one sense, our church never got that far. But a church can be dead even when there are still people in the pews. When the vision is gone, and a church is on a long, steady decline, there is the smell of death about it. And this church has experienced that smell of death--and the sadness and fear (perhaps suppressed) that come with it. This church has experienced decades at a time of having no new faces in the pews Sunday after Sunday. Or if there were new faces, they have departed after a longer or shorter time, leaving the same group gathered to worship together.
Even today, I sense that we are holding our breath, wondering if we can sustain this new growth that we have been experiencing for the last few years. And for some, there seems to be a sense that perhaps we have hit a wall. Lately, I sense that our new energy has been flagging a bit. There is a pause, a plateau, and we are all wondering, "What next?"
A story is passed down in our family lore of what led up to my grandfather, the Rev. Louis A. Dole, taking on a new pastorate in Bath, Maine. At the time, he was serving our church in Fryeburg, Maine. But he saw the desperate condition of the Bath church, and cast his eye in that direction, wanting to rebuild that church. Still, he couldn't just go there. He had to be invited. And at their annual meeting, the seven remaining members of the church voted four to three not to call a new minister.
In the course of time, two of those seven members died, so that only five members were left. And they held another vote on whether to call a minister. This time the vote was three to two in favor. They promptly called my grandfather as their minister, and the church experienced new phase of steady growth into a solid, stable, and useful congregation, during which it doubled its membership several times over.
Now, the moral of this story could be that all you have to do is decide to call a good minister, and you can grow your church. But I see a different moral. When there were seven people in the church, there was not the collective will to take the steps needed to grow the church. But when there were five--when the church was almost dead--a change had taken place. Perhaps the change was that two of the people who had voted against calling a minister had died. Or perhaps the overall feeling in the group was changing. What is certain is that this tiny group of five people made the decision to move forward. And it was on the strength of that decision that they were able to rebuild their congregation.
Back when I was finishing my degree in preparation for attending seminary, I recall a book on one of my class reading lists titled Surplus Powerlessness. I'm not sure I ever made it through the book. But the title has stuck with me. It is true that our power is limited. We can't do everything we would like to do. However, too often we limit ourselves by thinking we are unable to do anything at all. Our sense of powerlessness is greater than our actual lack of power. In other words, we could do a lot more than we are, but we hold ourselves back because we think we don't have the power in our hands to move forward.
We now have sixty-four members. And on an average Sunday, we have about thirty people in church, including the Sunday School children. If a church that is down to seven members . . . and then five, can make the decision to move forward, how much more can we with the larger and more active congregation that we have here? We think we are limited by money or by numbers. But we are really limited only by our vision and our commitment, and our decision to listen to the Lord's call that he makes to us, as he did to Lazarus, to "come forth!" And as Jesus said a little earlier in the story, "This sickness will not end in death. No, it is for God's glory."
Next week, as we look at the story of the Parable of the Vine, we will explore the real source of power for rebuilding our church.


Music: SoulSong
© 1999 Bruce DeBoer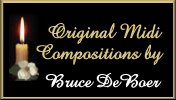 Photo Courtesy of CorelGallery

Custom Dings by Set City